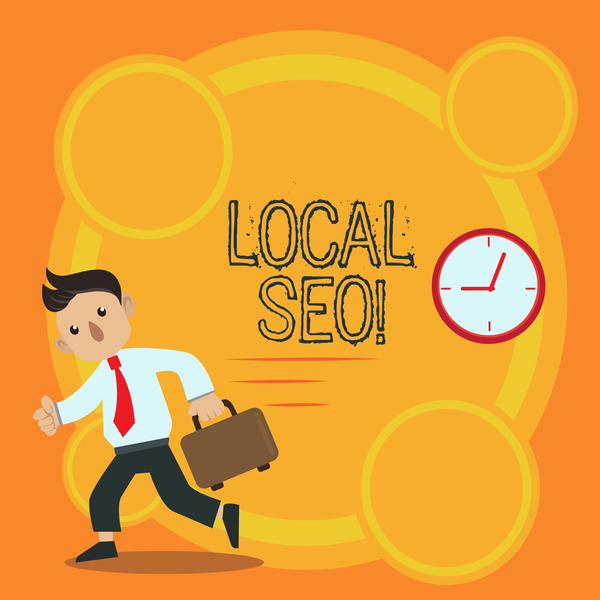 The truth is, "Local SEO" is kind of a "buzz word". Local search engine optimization or "SEO" does not have an official definition. However, several different entities have tried to explain and define "local SEO".
Moz defines local SEO as "a process for increasing search visibility for businesses that serve their communities face-to-face. These can be brick-and-mortar businesses with a physical location or service-area businesses that operate throughout a certain geographic area."
RevLocal considers local search engine optimization to be an "integrated approach to marketing for local businesses" while eConsultancy refers to it as a tactic for "providing results that are relevant to a searcher based on their current location."
Simply put, its the strategy used for small businesses to market their goods and services to show up in local search results (such as the more widely used search engine, "Google"). Potential customers often use a search phrase such as "restaurants near me", or "computer repairs near me". Local SEO is the strategy designed to show your business in those search results.
How does it differ from traditional SEO?
It is an entirely different strategy than that of traditional "SEO", the strategy used for online businesses or other websites trying to rank for a specific keyword for web views and traffic. Traditional SEO basically makes use of a high number of backlinks (getting other websites to add a link to your page as a "source of knowledge" on a specific topic or topics), domain trust authority and then deploying specific key words in blog posts and articles to get those pages to show up and rank in search engines like Google.
Local SEO however is using a number of services and platforms to get your brand and service out there in front of your potential customers. It is making use of a number of different strategies such as reviews, managing online ratings, social media engagement, and more across multiple platforms.
Google My Business is the KEY to success
Google My Business is arguably the single most important piece to the local SEO puzzle. Reason being, most users are searching locally using Google. These results also show up before any actual organic web results, and just below the paid ads. Below is a local search of "restaurants". It is important to note that geographical location is important here, the below search was performed from my office in Pollock, so it is showing restaurants closest to me in Tioga and Ball, this same search in Alexandria would differ based on geographical location, as well as by number of positive reviews.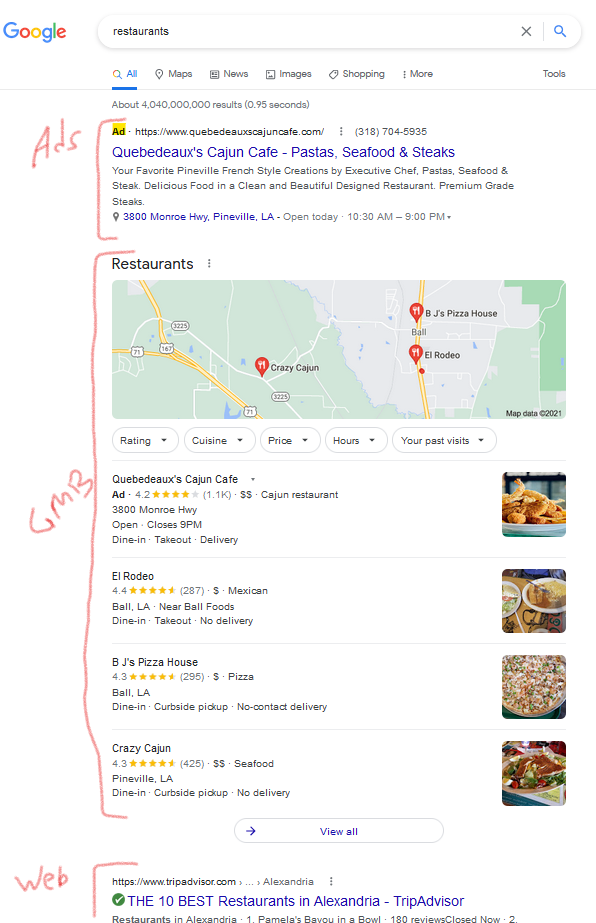 If you do one thing to promote your business online, add your business to Google My Business! It is extremely important for your business to be listed in Google My Business, as well as have accurate information! Google My Business should be the first step in the local SEO strategy. It is not hard to get your business listed on Google, we have an article walking you through the process which can be found here. We can assist with this process as part of our local SEO strategies, contact us today to find out more!
Other Resources
There are plenty of other resources and entities to list your business on. Of course Facebook and social media pages are another great place to start, if you have not already. Yelp is another great resource. Bing (Microsoft's, not quite as popular search engine) has their own service Bing Places for Business. There is also Angi (formerly "Angie's list" and "HomeAdvisor"), a word of caution here though, as it tends to be more geared towards selling you leads rather than generating your own organically, however it does have its place depending on what type of business you are marketing (plumbers and home based services), and if generating leads on your own is feasible or not.
The key to all of these services is making sure your information is accurate and consistent across all platforms as this can cause the search algorithms to be confused, and possibly penalize your listing. They are designed on a "trust" based system, so if they detect a variation in data, they might flag your results as illegitimate.
Conclusion
In summary, local SEO is important for any business that deals with local traffic. These local customers are looking for local businesses that cater to them. If you want to be found, you need to make sure to follow the best local SEO practices. If you need assistance, we are here to provide! We offer local SEO as one of our services, so please feel free to reach out to us about your needs.